If something's troubling you, please get in touch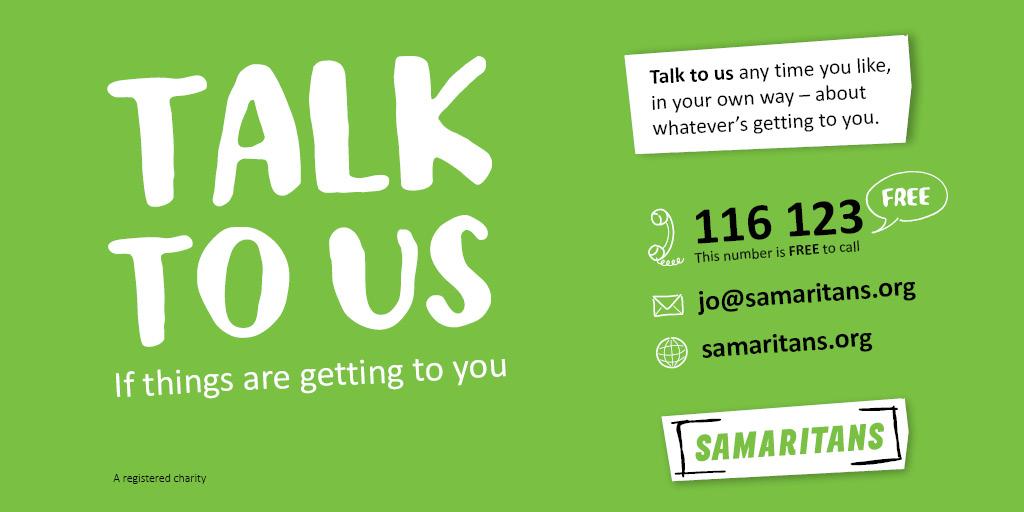 ————————-
Ayrshire Samaritans
22 The Foregate,
Kilmarnock,
KA1 1LU
Please follow Ayrshire Samaritans on twitter: @AyrshireSAMS
Usual hours open to receive callers at the door:
Monday CLOSED
Tuesday: 5pm – 9pm
Wednesday: 8am – 11am and 6pm – 9pm
Thursday: 6pm – 9pm
Friday: 8pm – 9pm
Saturday: 5pm – 9pm
Sunday: 5pm – 9pm
Please be patient for volunteers to answer the door as they may be taking calls.
Ayrshire Samaritans receive no government or statutory funding – they are totally dependent on donations and fundraising activities to keep their branch open and continue supporting callers.
Fundraising for Ayrshire Samaritans:
You could raise money by organising a fundraising event, such as a sponsored walk or Zumba session, or holding a tea party. No matter which way you choose to raise funds, rest assured that all donations are greatly appreciated.
Businesses are also welcome to get involved with raising funds; things like hosting charity events, donating raffle prizes or sponsoring activities. Letting Ayrshire Samaritans have bag-packing days, for example, can help immensely.
If you'd like to discuss your fundraising ideas, to let them know what you're already doing, or to find out how to get the monies you've raised to the branch, please email ayrshiresamaritans@gmail.com
Making a donation
You can make a donation to Ayrshire Samaritans through their Virgin Money Giving page.
Donations can also be made in a variety of other ways; at one of their awareness events, when they do a bag-pack at a local store, or remembering them in your will.
Volunteering with Ayrshire Samaritans
Ayrshire Samaritans are always looking for new volunteers, for both Listening and Support roles.
Listening Volunteers will be there for callers; to listen to them in confidence, without judging, as they talk through how they feel. Support Volunteers help with publicity,fundraising, outreach, school talks, and many other areas where the branch needs help.
Selection and Training processes are held twice a year at the end of February and August. Application packs are sent out all year round to anyone who expresses an interest.
If you feel this is something you'd like to do please contact the Ayrshire Samaritans recruitment line: ayrshiresamaritans@hotmail.com